Zkittles Strain
This strain review is on the terpene rich, purple colorful buds of
Zkittles
. 
Zkittles
is an Indica-Dominant hybrid. It's leaning more Indica because of the genetics which is Grape Ape and Grapefruit. This combination gives this strain a crazy terpene profile. The name is similar to the candy skittles because of the smell and taste of the buds.
-
Zkittles
has won two cannabis cups one in Michigan and the other in San Francisco.  I did do a strain review on a cross of
Zkittles
with Blue Diamond called
Blue Zittles
.  That was a good strain now
lets
get into this review and see how it stacks up against the other!
Zkittlez Aroma
The smell resembles the name perfectly.  The smell of Zkittlez is similar to a berry fruit bag of skittles. It also had a similar smell to the
Snowman Strain
because of how unique it is.  The
Zkittlez
had a grape dark sweet smell when broken up before rolling it in the joint.
Zkittlez Look
The Strain was a darker looking bud, with a lot of small tiny orange hair.  The buds were dark because the purple color overtook the look with more trichomes than any green color.  This was so amazing to see because the buds were just so frosty and glistening, almost like new snow on the ground on Christmas morning!  When you cracked open the bud you did notice the green color which you are usually custom to.
Zkittlez Stickiness
The buds weren't too sticky at all.  They did leave a little residue on your fingertips which resembled the smell of grapes.
Zkittlez Density
This
Zkittlez
Strain had a great density to the buds. They were extremely dense and gave no push back when you squeezed the buds.  This kind of bud structure was great to see especially if you're a weed
cannasuer
and love dense buds.
Zkittlez Price:
The deal I received at the Reef Detroit for this strain was a top-shelf deal 5g/$55. It was on special it and it definitely was a great special to stumble upon that day! I did notice a couple seeds in it after breaking it up, could be why it was on special too.
Zkittlez Taste
As you sparked the joint of
Zkittlez
on the first drag it was very smooth and definitely had a distinct grape taste. This strain is definitely a heavy smoke and it made me cough a couple times.  I think this strain would be good for a nice night time smoke, like a nice dessert after a great holiday dinner.
Zkittlez Ash
I was really impressed with the ash of the joint I smoked.  It had
a nice
white ash some dark spots, but mostly white throughout the joint. It was great to see especially because the strain is on the top-shelf so you are expecting that and it didn't disappoint.
Zkittlez Effects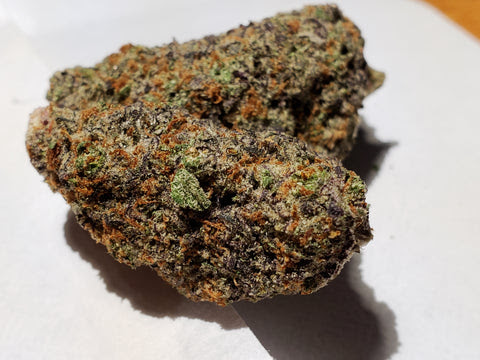 -Relaxing
-Body relaxation
-Hungry
-Happy
Zkittlez R&R
I would definitely recommend and repurchase the
Zkittlez Strain.
 It has the
cannasuers
heavier effects, and it's a perfect night time smoke before bed.  This would be a personal stash for many just to have because of the unique taste and the heavy effects.
Zkittlez Medical Effects
-Pain relief
-Increased appetite
-Depression
-Anti-Anxiety
-In Da Couch (Couchlock feeling)
-
My Overall opinion on the
Zkittlez
is that it's definitely worth it to try this strain. I personally would purchase this again because the batch I had was very good. I was pretty impressed with the strain from
The Reef Detroit
. The Strain was top-shelf I did get my money's worth from it especially because of the deal they had.
I definitely preferred this Zkittlez strain over the Blue Zittles strain.
-
My ratings on the strain review are 88/100 based on my strain review guide. If you enjoyed this review go check out another strain review on Pink Panties strain.
If you have any questions you contact me here.  The next strain review is on Mimosa. Stay Tuned and Smoke Good!
Strain Review Ratings: 88/100

Before Smoke:                                            After Smoke:
Look: 9                                                Taste:8
Aroma:8.5                                              Ash: 9
Stickiness (Feel):7                             Effect:9.5
Price:8.5                                                R&R:9.5
Density:9.5                                            Medicating Benefits:9.5