Sherbert x Gelato
This Strain Review concentrates on the strains Sunset Sherbert and The Gelato Strain.  These two strains are combined and become the Sherbert x Gelato strain.  These strains are newer within the last few years because they all have background genetics of the famous Girl Scout Cookie Strain.

-
I have been a fan of the Sherbert genetics because
Sherblato
is part of it, and you also can't forget about Sunset Sherbert, all have great tastes and good effects.   I knew once I saw this combination that it would be worth doing a review
on,
because I'm positive that this will be an upcoming strain that many will want to try and smoke!
Sherblato

strain
is listed below which contains the similar crosses in this review.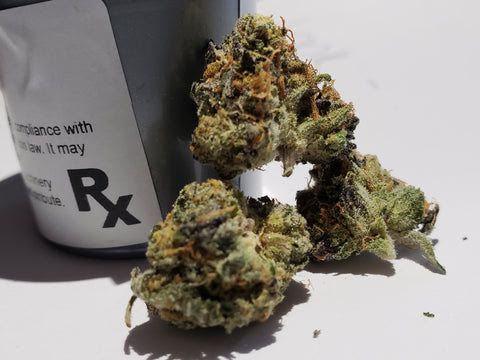 -

Sherbert x Gelato Look:

-

This strain was very shiny when the light hit it. The buds were small with orange hairs around covering them.  You can see the trichomes just shining on the buds. Light green around with no other colors and tons of crystals making it very frosty which made it just stand out!

 

Sherbert x Gelato Aroma:

-

As soon as the jar is opened a whiff of the Gelato and the distinct cookie smell are noticed.  As you continue to smell you start to get subtle hints of the Sherbert aroma. It does have a sweet aroma also mixed in between the cookie and sherbert. There is a subtle hint of yellow starburst and a fruity mix with it. After you break the buds up the Sherbert aroma takes over and is very powerful, fruity, and sweet.
Sherbert x Gelato Stickiness:
The buds weren't too sticky but they did leave a strong cookie order on your fingertips after squeezing them. Your fingers just weren't stuck together after squeezing the nugs but you did have a little residue left over.
Sherbert x Gelato Density:
-
This cross is definitely cookie because of the smaller dense nugs in the container.  The bigger buds were pretty dense but didn't give any push back after getting squeezed. Good overall bud
structure,
and it was a little light in spots but was denser compared to fluffy and light.
Sherbert x Gelato Price:
-
The Price for this strain was 4g for 1/8 and it was on special for a New Years Eve. This was a good deal for one of their top-shelf strains.
Sherbert x Gelato Taste:
-
The Dry hit upon sparking the joint was a bit mix of a sweet cookie. Once you spark the joint you get an instant taste of the fruity mix.  It almost tastes like a
Starburst
candy. It's a very smooth smoke, very delicious if you love a good taste
of flower
, then this is it! In fact almost like a mango, pineapple taste.
Sherbert x Gelato Ash:
-
The ash is pretty white almost like a light grey. Not to much black ash which is nice to see on this exquisite tasting strain. The joint stays lit and burns slowly during the entire smoke.
Sherbert x Gelato R&R:

Yes, I would definitely recommend this strain for medical patients and recreational if available in your area. I would repurchase this strain too because I am a fan of the genetics and how unique this strain was. I would most definitely keep a personal stash if I am able to find this one again!
Sherbert x Gelato Effects:
-
-Relaxing
-Relief
-Euphoric
Sherbert x Gelato Medical Effects:
-
- Increased Appetite
- Pain Relief
- Anti-Anxiety
Sherbert x Gelato Overall:
Overall the Sherbert x Gelato Strain was a great a strain and it provided great effects after smoking. The cross of Sherbert x Gelato that I have tried and also did a review on is
Sherblato
. This was an excellent strain, and If you get the chance to purchase this strain definitely try it for the great taste and effects.
My ratings on the strain review are 86.5/100 based on my strain review guide. If you enjoyed this review go check out another strain review on Pineapple Express Strain.
If you have any questions you contact me here.  And Don't forget to Smoke Good and Love Life!
Before Smoke:                               After Smoke:
Look:8                                          Taste:9
Aroma:8                                      Ash: 8
Stickiness (Feel):9                          Effect:9
Price:9                                           R&R: 9
Density:8.5                                      Medicating Benefits:9